Aluminium – Magnesium Technology Roadshow Oct. 2011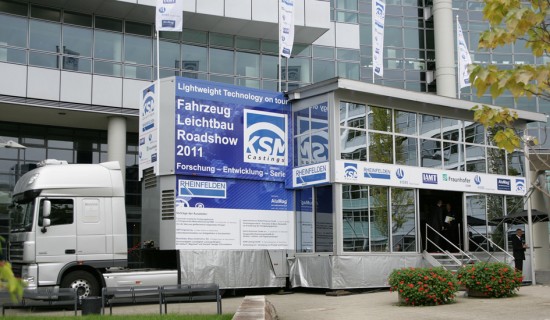 The "AluMag® Lightweight Roadshow " focused on aluminum, magnesium and hybrids took place from October 10th to October 14th, 2011.
The following targets were visited:
BMW / Mini in Munich
AUDI in Ingolstadt
DAIMLER / Smart in Sindelfingen
OPEL in Rüsselsheim
ZF in Stemwede-Dielingen
Guests were received on the ground floor of the 140 square meters large, air-conditioned trailer with a product booth from the different technology partners. On the upper floor of the two-tier trailer technology lectures were moderated presented and discussed.
The subject of lightweight for different applications was represented. Different solutions have been presented with materials, processes and compounds, and discussed, in order to meet the requirements in terms of weight reduction, component solutions and integration.
The following technology partners were available to visitors:
KSM Casting Group
Rheinfelden Alloys
Hydro Aluminium Tønder
Hydro Aluminium Rolled Products
Fraunhofer IFAM
Audi
Daimler
ZF