Light Metal Foundry Database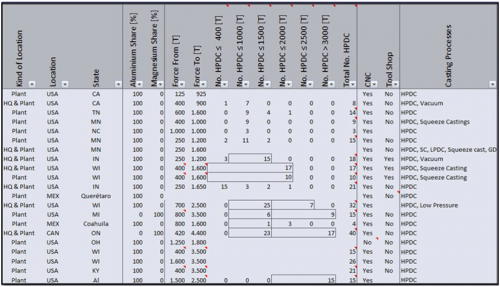 Foundry Database:
AluMag as a provider of automotive forecasting, studies, research, and databases offers a new tool that provides market intelligence on Aluminum and Magnesium casting companies from all over the world.
Key Facts:
Foundry database listing actual 1020 facilities with contacts and detailed information as supplier source, competitor analysis or M&A target
Multiple locations of every company incl. HQ and plants
HPDC with locking forces focused from 800 tons up-wards
Considering the latest and advanced processes of cast hollow sections in HPDC and LPDC for structural applications
Data Per Company / Plant:
Full address with allocated filter for region, country and states
Share of cast aluminum and magnesium
Five clamping force ranges (HPDC)
Number of casting cells
Casting processes like, SC, GDC, LPDC, CPC, SQ, HPDC, HOLLOW SECTION
In-house engineering
In-house tool shop
Post cast processes e.g. CNC, assembly, heat treatment
Cast applications and products incl. pictures
Certifications
Number of employees
Kind of location
Key financial figures
Yearly capacity
Customer references
Affiliations to other companies like JV
Further criteria can be added according to your requirements….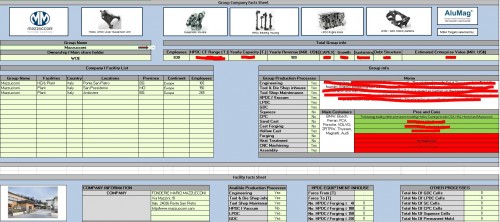 Benefits:
Analysis and development of the light metal casting market around the world
Realize opportunities
Detect M&A targets
Benchmark competing companies
Identify new customers
Search for processes, clamping forces filtered by countries and receive immediate answers
Reflects what is needed by the market
Supply-chain localization
Off the shelf study, based on the Foundry Database, personalized to any needs and flexible in customizing