German In-house Tech Meetings 2019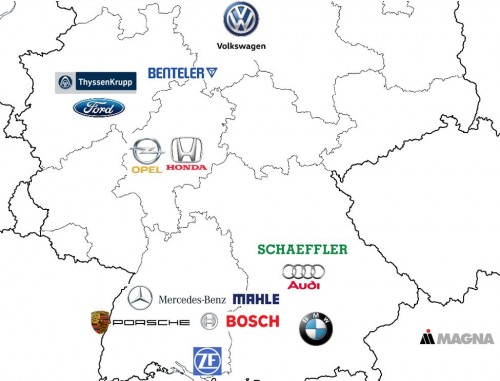 Focus: Lightweight, Emission Reduction & Alternative Drive-Train Technology
Targets: OEMs & TIER1s
The "AluMag In-House Tech Meetings" offers an opportunity for participating companies to visit and have intensive face-to-face meetings with five German Automotive OEMs or Tier1 directly on-site.

Organization
Five OEMs or Tier1 will be visited
Trip is scheduled for first half of 2019
Each technology partner will have individual time at each site for its company presentation, Q&A as well as sample demonstration.
Benefits
Meet German procurement and R&D in their Head Quarters for your products or technology
Understand potential customers' short and long term demand and strategy
AluMag on-site German language interpretation (Japanese/Chinese)
Access to direct responsible window persons for your products
Acquiring key information of German automotive worldwide applications and localization
Benchmark event in cost-benefit ratio – time Efficiency – technology and business talks
Highly efficient in branding, establishing and maintaining contacts on a broad base
Open and pleasant atmosphere for talks – interchange – build-up relationship – business
Fully organized, from departure to arrival
In-house meeting is an unique event for individual customers who start approaching the new market, new potential customers or new projects, and lead them directly to realize the new projects, not only in Europe, but also in NA, China and Japan. Customers who join in-house meetings benefit from AluMag established automotive network and technical knowledge. For the customer who hasn't buildup their offices or facilities in other regions, AluMag team is ready to support further on market development in a rapid and efficient way.
Who Should Participate At AluMag In-house Meetings
Leading lightweight technologies in aluminum, carbon, composite, high strength steel, magnesium and plastics as well as organo sheets
Advanced component and system supplier for EV propulsion/drives, combustion engine, transmission and tailpipe exhaust aftertreatment
Joining systems technologies like bonding, fastener, welding, …
Frontier Engineering companies action in fields described above
If you are interested in our next in-house tech meeting in Europe, NA, Japan or China, please contact Mrs.Zhou, share with us your wished targets and time frame, we will send you our offer according to your requirements.
Mrs. Ying Zhou
Lead of China & Japan Projects
Tel: +49 172 6415876
y.zhou@alumag.com