SAE World Congress Detroit, USA April 2017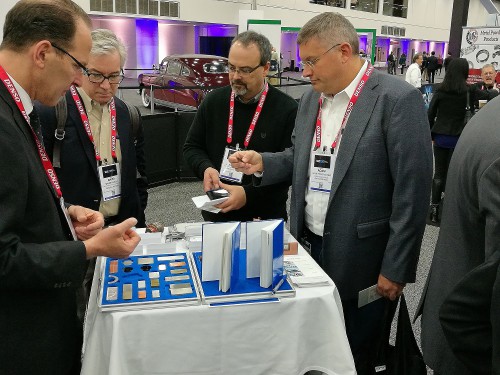 SAE 2017 With The AluMag "Lightweighting – Emission Reduction – Car Comfort" Technology Center Successfully Executed
This was the 7th consecutive year AluMag participated at the SAE World Congress; April 4 till 6, 2017 in Detroit, MI and promoted some of leading technology companies in the Light Weighting – Emission Reduction – Car Comfort Technology – Manufacturing sector. Organized by AluMag, this group showed how the companies are working on edge technology.
The Technology Companies that participated this year were:
The above mentioned companies displayed and promoted there technology in a 1,000 sft display area.
Over 300 key visitors exchanged communication with the participating AluMag exhibitors. Some key information on the attendees to the AluMag booth are:
Visitors By Type Of Company:
Visitors By Job Title:

Visitors By Group:

Visitors By Department:

Visitors By Country:

Video Review:
SAE Detroit – Video

AluMag SAE17 from AluMag Automotive GmbH on Vimeo.
Gallery:
AHK SAE Reception Sponsored By AluMag
AluMag Technology Center Booth
Visit By GM VIP Team
Attending Detroit Red Wings Game
After Hours Dinner At Brazilian Steak House
Reviews – AluMag SAE Technology Center:
SAE World Congress Detroit, USA April 2016
SAE World Congress Detroit, USA April 2015
SAE World Congress Detroit, USA April 2014
SAE World Congress Detroit, USA April 2012
SAE World Congress Detroit, USA April 2011