Call For Papers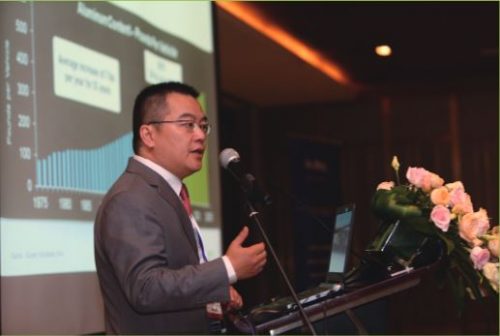 AluMag® Asia Automotive Lightweight Procurement Symposium Shanghai 2015 with the key speaker Mr. James LIU, Managing Director of Novelis China and Vice President, Automotive for Novelis Asia, presented Novelis overall approaches to supporting high-volume aluminum production for automotive light weighting, including solutions for forming and high-speed joining, tailored solutions for material maximization, alloys for strength and crash energy, closed-loop recycling and adhesive bonding technology innovation
Call For Papers
We are looking for papers about the process and supply chain including quality assurance, light weighting and procurement e.g.:
Needs and ways of light weighting in BIW and/or transmission and/or chassis/suspension.
Will the market see different BIW and/or chassis/suspension materials in the various power train concepts like conventional, EV and hybrid.
Scenarios of the total curb light weighting in 2025.
Metal purchasing including risk management.
Analysis of cost drivers when buying lightweight solutions / materials and the elimination of these.
Process and material cost analysis – Decision making for optimal multi material applications.
Make or buy of lightweight components.
Best cost country sourcing.
Cost case studies / feasibilities about high strength steel vs. aluminum vs. magnesium vs. Composites.
Impact on EV / electrification market.
Increasing price pressure through OEM platform, module and globalization strategy.
Successful strategic supplier – selection – qualification – development/buildup.
Cost reduction through the use of functional- / structural light weighting, new materials, advanced processes.
Challenges – Globalization of a middle sized lightweight technology leading supplier.
Global quality improvement in accompany with Light weighting [and cost reduction].
We welcome other topic suggestion you would like to present at the AluMag® Symposium.
Please send AluMag® your paper abstract and speaker information until end of November 2019 to ensure your position as a speaker at the SCALSMEX. The abstract and paper documents to be presented must be written in English.
Sign Up As Speaker – Online Registration
As a speaker at the SCALSMEX, you will be invited to stay at Presidente Intercontinental Puebla, Puebla, Mexico during the course of the event. Your cost will be refunded in compliance with your company`s travel expense policy.