2018 China Diecasting – Auto Tec Day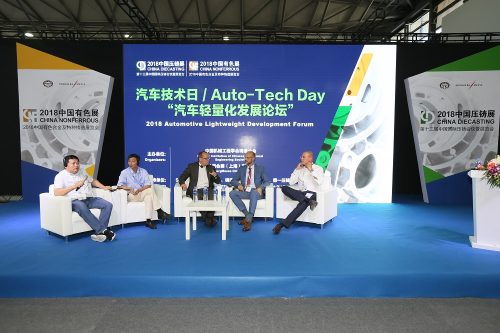 "Auto Tec Day" follows the leading trend of "lightweight, new-energy, and intelligence" in the global automotive industry, "Auto-Tech Day" discussed revolutionary challenges and opportunities, in form of development forum and displaying.
The forum, "2018 Automotive Lightweight Development Forum" has invited 7 experts from GF Casting Solutions, GM, DF Motor, DGS, BYD, AluMag Automotive, N-CE Neuwirth Consulting & Engineering, discussed the latest progress and solution of lightweight automotive parts, as well as the opportunities.
Mr. Jost Gärtner from AluMag Automotive gave a lecture under the title "AUTOMOTIVE CONSUMPTION OF LIGHTWEIGHT MATERIALS & THE IMPACT OF ELECTRICAL VEHICLES" and was moderator during the round table discussion. The round table discussion incl.
Mr Zezhong WANG, Director Global Vehicle Architecture Passenger Vehicle & Casting Expert at Dongfeng Motor Co. Ltd.
Mr Chenghe HE, Deputy Plant Manager at BYD
Mr. Jost GAERTNER, Managing Partner at AluMag Automotive
Mr. Andreas MUELLER, CEO at DGS Group
–