SAE WCX 2018 – Lightweighting – Materials – Efficiency Pavilion
Cobo Center In Detroit (MI), USA – April 10th To 12th 2018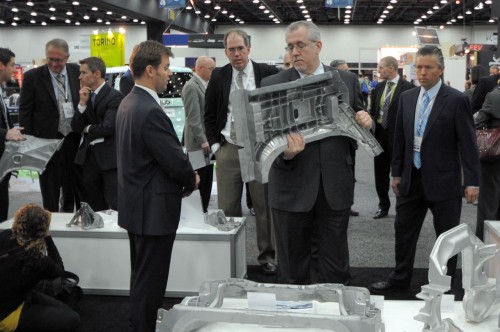 New to this year`s WCX (World Congress Experience) 2018 event is the "Lightweighting – Materials – Efficiency Pavilion", organized by AluMag® a global market development company, serving the entire automotive supply chain regardless of region, market, application, material, process or products. This pavilion will create a world-class platform to support the key automotive supply base that are focusing their efforts and goals on:
Reducing the overall emission by reducing weight and improve the powertrain efficiency
Function integration and structural lightweighting
Develop advanced multi material / process hybrids, its surface as well as joining technologies
Design, develop, manufacture new materials and processes
Pursue green powertrain, ICE emission reduction, battery drive train
The "Lightweighting – Materials – Efficiency Pavilion" is the right platform for companies, committed to discover and develop advanced lightweighting and or sustainable powertrain as you will meet the right audience of key automotive players ( OEM's, Tier 1 & 2 ) during this event.
SAE WCX Exhibition Floorplan – AluMag LME Pavilion Location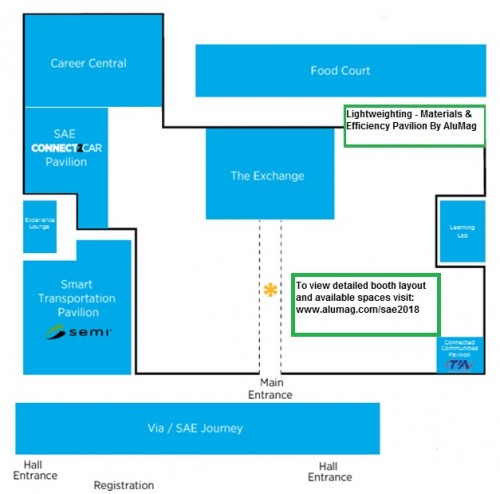 Layout Of AluMag LME Pavilion

Click to enlarge pictures!
Each booth has the size of 10″ x 10″ ( 3.048 m x 3.048 m )
Each booth can be increased by increments of 10″ x 10″
Price & Conditions – Standard SAE Booth Package:
Draped back wall (8'H -2.43 mt H ) and side rails (3'H – 0.91 mt H)
Booth Identification Sign (company name in text only)
(12) one-day Exhibitor Registrations per 100 sq.ft. ( 9.29 qm2 ) of space
(6) one-day Customer Registrations per 100 sq.ft. ( 9.29 qm2 ) of space
Company listing and 50-word maximum profile in the printed Event Guide*
Company listing and 150-word maximum profile in the Online Exhibitor Directory
*Contract and profile must be received prior to applicable print and production deadlines: February 2018
SAE Exhibitor cost for pavilion service: $5.400,00 per booth
AluMag LEM Pavilion Booth Packages:
AluMag Lightweighting – Materials & Efficiency Pavilion layout is intended for an an open concept pavilion / exhibition area for which reason we encourage the exhibitors to consider one of the following exhibitions options:
Price & Conditions – AluMag LME Pavilion Standard Booth Package:
Open concept exhibition / pavilion area
Poster wall with cabinet and company logo on top
Electrical outlet by cabinet
Poster with you company key details / technology / advantages
2 to 3 product displays
Meeting table with chairs
Bar with snacks & refreshment
Booth with carpet ( color to be defined ) – it will be one color for complete pavilion
Brochure / leaflet holder
Booth cleaning and up-keep
AluMag booth set-up and tear down
AluMag will direct customers through pavilion
Customer lead retrieval unit
SAE event summary of lead retrievals
Coordination of event management – AluMag
Company logo on banner
SAE material handling
OEM VIP tour
Exhibitor on-cost for AluMag pavilion service: $6.500,00 per booth
Price & Conditions – AluMag LME Pavilion Premium Booth Package:
Hotel SAE 4 nights ( April 9 till 12, 2018 )
Logistics – pick up airport / hotel / SAE ( April 9 till 12, 2018 )
Lunch & Diner ( April 9 till 12, 2018 )
AHK Reception ( April 10, 2018 )
Sport Event ( date tbd )
Exhibitor on-cost for additional AluMag service ( 2 people ): $5.000,00 for two people
Exhibitor Registration:
For exhibit interest or non binding reservation at the "Lightweighting – Materials – Efficiency Pavilion", organized by AluMag®, please sign-up using the registration form on this webpage or contact:
Roberto BOEKER
Managing Partner
+1 248 9625086
r.boeker@alumag.com