POWERTRAIN EFFICIENCY & LIGHTWEIGHT TECHNOLOGY ROADSHOW 2018
FOR ASIAN SUPPLIERS TARGETING EUROPEAN AUTOMOTIVE OEMS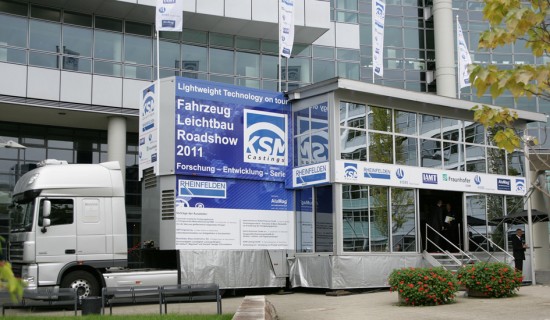 The AluMag Lightweight Roadshow is the unique mobile technology expert exhibition with symposium in Europe.
The "POWERTRAIN EFFICIENCY & LIGHTWEIGHT TECHNOLOGY ROADSHOW 2018" offers an opportunity for up to 10 Asian partners to visit five automotive OEMs and/or Tier1s directly on-site in Europe April. 2018. As Technology Partner you have the benefit to present your company as one of the top Asian suppliers and show cast your newest developments, materials, products and processes.
Organization
Roadshow is scheduled for 2018 in April from 15th to 20th
Performance with a two-floor Trailer with 140 sqm
Trailer is separated between exhibition, hospitality and forum area on the ground floor and a presentation / meeting room on the upper floor
Primary Targets
The roadshow will visit five selected OEMs and/or Tier1s across Germany or Europe (e.g. AUDI, BENTELER, BOSCH, BMW, MERCEDES BENZ, FORD, HONDA, MAHLE, OPEL, PORSCHE, SCHAEFFLER, THYSSENKRUPP, VW, ZF…)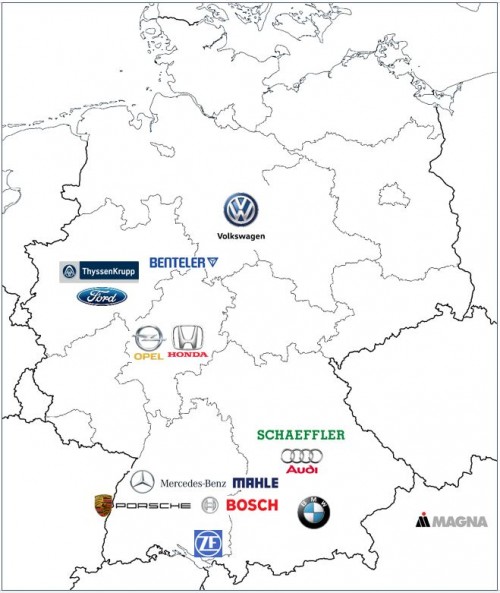 Secondary Targets
Optional in-house tech meetings in other European countries before or after roadshow week can be arranged. We will send you an additional offer upon your requests:
UK: JLR, HONDA, NISSAN
France: PSA
Belgium: TOYOTA
Italy: FIAT, MASERATI
Austria: MAGNA
Others
Benefits
On site of five different automotive OEM and/or Tier1 headquarters or R&D centers
Targeted show casting of your developments, materials, products, processes, cost with your samples
Technical paper presentation by each Technology Partner
Benchmark event in cost-benefit ratio – time efficiency – technology and business talks
Inspiring customers about your advanced lightweight concepts / knowledge
Invitation through AluMag internal email communication systems, information in the customers' intranets with a short company presentation
Access to high level manager and directors as well as decision makers
Contact details of registered dialogue partners are provided in an excel after the Roadshow
Highly efficient in branding, establishing and maintaining contacts on a broad base
Fully organized by local staff during 5 exhibition days
Who Should Participate
Leading companies within powertrain efficiency technology as well as emission reduction solution technology
Component & system suppliers of new energy vehicle applications such as batteries, fuelcells, driveline, electronic components, motors…
Leading lightweight technology companies in Aluminium, Magnesium, steel, CFRP, glass fiber, plastics as well as organo sheets
Laminates-, Cutting-, Forming Treatment as well as Surface Treatment
Mechanical and adhesive Joining Technologies like bonding, fastener, welding, …
Companies of the area Engineering – Technical Calculation – Evaluation / Validation – Prototype
Costs Per Technology Partner for Five Exhibition Days: (Excl. VAT)
EUR22.200 Participant as a Technology Partner
EUR50.700 Participant as a 1st Sponsor
EUR31.700 Participant as a 2nd Sponsor
*Each exhibitor Max. two attendees, including accommodation(4stars hotel), breakfast + lunch + dinner, transportation during 5 exhibition days. The accommodation and transportation cost could be refunded if you would like to arrange by yourselves. For further information and details, please contact us.
Link To Roadshow Reviews
Lightweight Technology & Advanced Transmission Roadshow July 2014
Aluminium Magnesium Technology Roadshow Oct 2013
Aluminium Magnesium Technology Roadshow March 2013
Aluminium Magnesium Technology Roadshow Oct 2012
Aluminium Magnesium Technology Roadshow March 2012
Carbon – Composite – Hybrid Technology Roadshow Nov. 2011
Aluminium Magnesium Technology Roadshow Oct 2011
Videos:
Roadshow TV-Report – English

Roadshow TV-Report – German

Roadshow TV-Report – English (YouKu)